2×01 – Friends Close, Enemies Closer
Dopo aver sconfitto le cinesi in una gara non ufficiale, andando contro il regolamento, le ragazze sono piene di fiducia in loro stesse, ma quando la Squadra Nazionale deve scegliere chi andrà a competere in Francia, le Rock girls non sono tanto sicure di riuscire a entrare in squadra.
2×02 – All Or Nothing
Dopo essere state reintegrate nel team nazionale, le ragazze si recano in Francia, dove il raggiungimento dei loro sogni è perseguitato da gelosie, sabotaggi, incertezze e la costante presenza di Ellen Beals. Payson rischia il tutto per tutto per essere reintegrata in squadra, Emily è ancora angosciata per via di Damon mentre Kaylie e Lauren continuano a beccarsi tra di loro.
2×03 – Battle of the Flexes
Un campione Olimpionico, Austin Tucker, arriva alla Rock per allenarsi temporaneamente, gettando scompiglio negli equilibri della palestra sui vari attrezzi. Per risolvere la questione, Sasha decide di far competere le ragazze contro i ragazzi ma ogni gruppo sulle attrezzature dell'altro. Payson intanto sta riflettendo sul suo futuro e sul posto che la ginnastica avrà nella sua vita.
2×04 – And the Rocky Goes To…
Le ragazze si preparano all'annuale serata per la consegna dei premi annuali, i Rocky Awards e Lauren è determinata a conquistare quello di Miss Simpatia. Ma dovrà affrontare una dura avversaria… Emily.
2×05 – I Won't Dance, Don't Ask Me
In vista dei campionati mondiali, Sasha spinge le ragazze a concentrarsi e a perfezionare i loro esercizi, ma ovviamente proprio in questo periodo loro hanno altro per la testa. Lauren vuole proclamare il suo amore per Carter una volta per tutte, Kaylie è presa da problemi sia fuori e dentro la palestra, mentre Payson si chiede se riuscirà mai ad arrivare alla visione che Sasha ha di lei.
2×06 – Party Gone Out of Bounds
Austin organizza una festa alla sua casa al lago e invita le ragazze, ma la serata non va come tutti avevano previsto…
2×07 – What Are You Made Of?
Kaylie, Lauren, ed Emily sono impegnate nell'ultimo allenamento con la squadra nazionale prima di affrontare le selezioni per i Campionati del Mondo.
2×08 – Rock Bottom
Chloe si ritrova nei guai per via di un ultimatum che le si ritorce contro. Emily cerca in tutti i modi di dare una mano a suo fratello Wyatt.
2×09 – If Only…
La madre di Lauren torna a Boulder per instaurare un rapporto con sua figlia. Damon nel frattempo, invita Emily per un appuntamento.
2×10 – At the Edge of the Worlds
Le ragazze affrontano le eliminatorie per entrare a far parte della squadra che parteciperà ai Campionati del Mondo.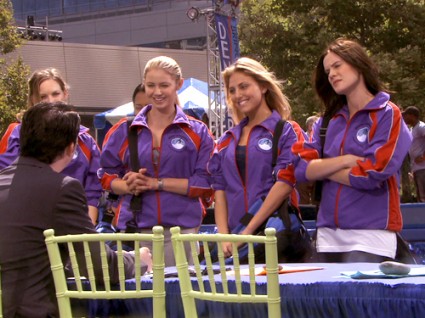 2×11 – The New Normal
Kaylie viene messa in cura per disordini alimentari e fa una nuova amicizia, Maeve, una modella che è già stata curata in precedenza. Sasha decide di lasciare la palestra e tornare in Romania. Emily viene messa sotto arresti domiciliari e deve indossare un sensore alla caviglia.
2×12 – Free People
The Rock ha un nuovo allenatore e tutti, specialmente Payson, sono un po' scettici sulle sue capacità. Lauren la vede come un'opportunità per iniziare col piede giusto con un nuovo allenatore che non conosce i suoi trucchi.
2×13 – The Buddy System
Lauren e Payson, rese co-capitane, si attaccano continuamente. Steve trova il video modificato del bacio tra Payson e Sasha ed affronta Lauren al riguardo. Emily scopre che il nuovo lavoro di Chloe è in uno strip club.
2×14 – Life Of Death
Le ragazze si preparano per una sfida con il Pinewood Club, la peggior palestra del paese, e si preoccupano che non rappresenti una sfida sufficiente per loro in vista del torneo da disputare in Ungheria. Intanto Damon e Kaylie si avvicinano, mentre lui inizia a registrare il disco a casa della ragazza.
2×15 – Hungary Heart
Sulla strada per il torneo in Ungheria, le ragazze fanno scalo in Romania per convincere Sasha a tornare ad allenarle.
2×16 – Requiem For A Dream
Le peggiori paure di Emily riguardo Damon diventano realtà quando l'amica le confessa di aver baciato il ragazzo.
2×17 – To Thine Own Self Be True
Kaylie finalmente ritorna al The Rock per allenarsi ma Sasha annuncia presto che Emily sarà rimpiazzata da Kelly Parker nella squadra per i Mondiali e che anche Kaylie verrà sostituita perchè non ha avuto abbastanza tempo per allenarsi
2×18 – Dog Eat Dog
La manager di Kelly, Sheila, arriva in palestra e comincia a fare in modo da rendere Kelly la ragazza più famosa della squadra, il che include il sabotaggio di Kaylie come possibile partecipante alla squadra per i Mondiali. Nel frattempo Payson e Max trovano un cucciolo smarrito mentre stanno facendo jogging e decidono di prendersene cura
2×19 – What Lies Between
Sheila continua con il suo pian di rovinare Kaylie, ma dopo che Kelly ascolta un'intervista rilasciata da Kaylie durante la quale la ragazza riempie di complimenti Kelly, quest'ultima comincia a sentirsi in colpa. Nel frattempo nuovi dettagli vengono a galla sulle vere motivazioni dietro il bacio tra Payson e Sasha
2×20 – Worlds Apart
Sasha e le ragazze vanno a Rio de Janeiro dove si terrà la manifestazione dei Campionati Mondiali. Le ragazze scoprono che il loro problema principale non sono le avversarie, bensì loro stesse.